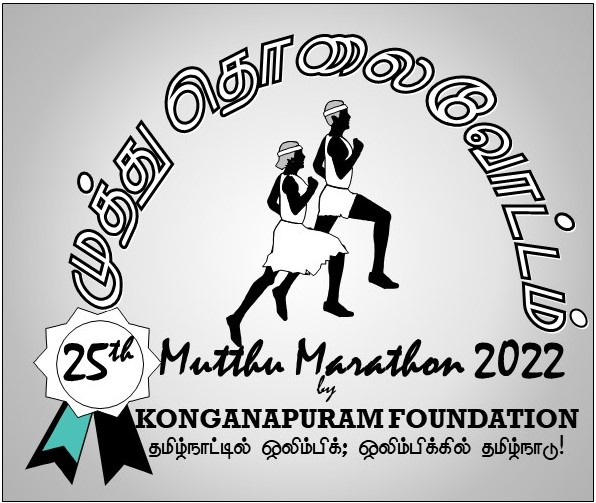 Event Date:6th March 2022
BIB Distribution Venue and Date:5th March 2022,Sri Amman Matric Higher Secondary School, Vaikundam
Start Point Venue:Chelliamman Kovil, Vaikundam, Near JPR Mahal.
Prize Distribution Venue:KAN Govt Higher Secondary School, Konganapuram.
Trail:Rural village.
For 42k and 21k, starting venue is GEM thotam and trial is a Multiloop. Conveyance will be provided from Sri Amman Metric school, Vaikundam to GEM thotam.
Facebook page:https://www.facebook.com/mutthumarathon
Why so special:
One of the oldest Marathon events in India and the oldest annual marathon in Tamil Nadu.
Timing chip is deployed.
Registration fee starts from Rs 300 for 8Km Walk to Rs 600 for 42 KM including Medal, T-shirt, free overnight stay in nominal place, breakfast..
Mutthu Marathon started by Konganapuram Foundation and Konganapuram Sports Club as a state level event in honour of our courageous ancestors. Starting with 117 participants in two categories in 1998, the annual event has grown to 1300+ participants in recent years. Full-marathon (SWELECT 42K) was introduced on our 13th year in 2010, with corporate sponsorship from Swelect Energy Systems Ltd. (formerly Numeric Power Systems Ltd.), Chennai.
Ducen IT, Chennai, is the proud sponsor of the half-marathon (DUCEN 21K) race. Its fair to say that Mutthu Marathon has evolved today to become one of the most stimulating events for aspiring young athletes in and around the region!
Mutthu Marathon is unique in terms of encouraging rural sports. Many of the visiting runners in the past have remarked that Mutthu Marathon track offers a very charming experience. Please be aware that Mutthu Marathon, set on country roads on a rolling-hills terrain, offers one of toughest full-marathon tracks in the world even for veteran runners. In spite of Winter season, the temperature could get very warm especially for the full and half-marathon runners.