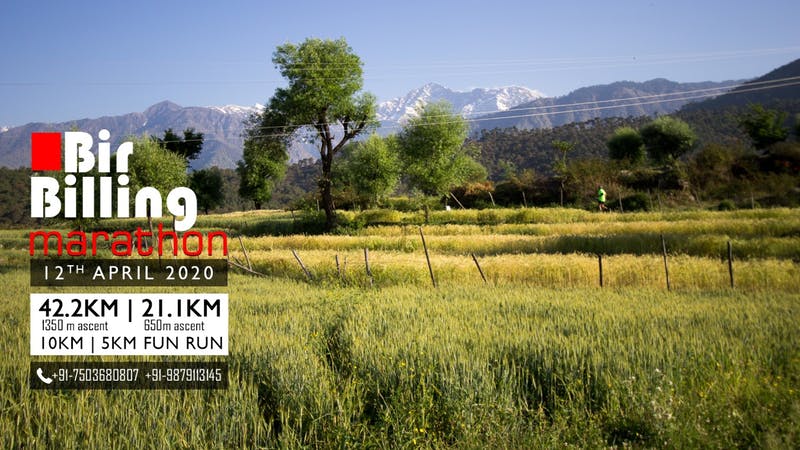 How good it is to run a marathon without caring about the distance? Such is the charm of running in the meadows, Oak and Deodar trees on both the sides of the road and feeling the clean and fresh air of Bir inside the lungs. Widely known as the world's second-best paragliding destination, Bir hosted India's first Paragliding World Cup in October 2015. It is also known for Tibetan refugee settlements and half a dozen monasteries making it an upcoming tourist destination.
At Bir–Billing Marathon on April 12, 2020, runners will get a chance to experience the spirituality and the tranquility of Bir. The marathon can be combined with loads of other adventures. There's nothing a better way to treat one with a tandem paragliding after the 42.2kms run on the rolling terrain and awesome weather of Bir. Still unexplored and a haven for adventurers, thousands of outdoor sports enthusiasts are attracted to Bir every year. Once the snow melts at Billing & the weather clears in April, the paragliding season begins attracting many gliders from around the world. Running amidst snowcapped peaks & meadows in April will appeal to many runners.
Category: Men, Women
Marathon (42.2 KM)
Total Elevation Gain: 1500m
Max Altitude: 2450m
Half Marathon (21.0975 KM)
Total Elevation Gain: 670m
Max Altitude: 1575m
10 KM
Total Elevation Gain: 210m
Max Altitude: 1475m
What is included?
T-Shirts, Personalized Bibs, Timing Certificates & Trophy.
Post Race refreshments
Stationary and Mobile Aid Stations providing water/hydration and medical support
Mobile expert medical care throughout the route.
What is not included?
Transport To and from Bir.
Accommodation in Bir.
Any other thing not mentioned in inclusions.
For More details:
Email: nupur.vidhitsaa@gmail.com
Contact: +91-7503680807, +91-9879113145