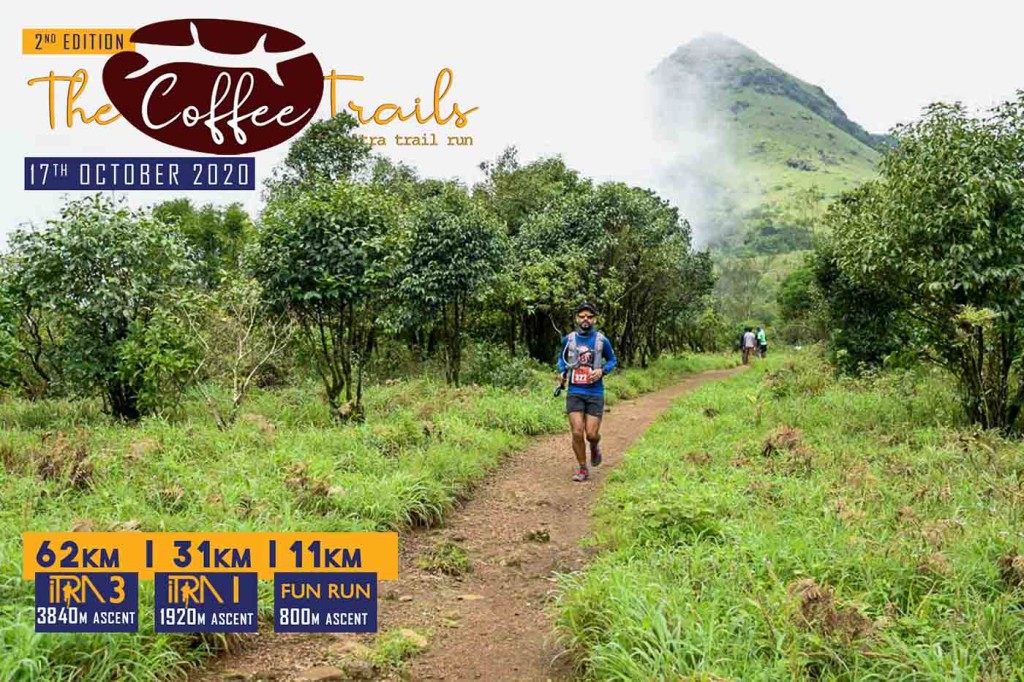 The Coffee Trails is set to happen in Coorg on 17th October 2020.
Coorg is one of the smallest districts in Karnataka, next to the Kerala border known for its verdant coffee estates, hills, lush greenery and the warrior community of Kodavas, because of which it is called the 'land of the bold and beautiful'. Also known as the 'Scotland of India', it was given the term because of its previous Scottish and British settlers being reminded of their homeland by the hilly terrain, greenery, and the cool climate. The Coffee Trails will take the runners through beautiful coffee estates and some of the most beautiful trails and views in all of Coorg. The route will take in three of the most well-known peaks in the area; Thadiandamol (the tallest peak in Coorg), Kabbe and Chomakund.
Categories:
DISTANCE: 62km
TOTAL ELEVATION GAIN: 3840m
HIGHEST ALTITUDE: 1,720m
CUT-OFF: 12hrs
ITRA points: 3
DISTANCE: 31km
TOTAL ELEVATION GAIN: 1920m
HIGHEST ALTITUDE: 1,720m
CUT-OFF: 6hrs
ITRA points: 1
DISTANCE: Mt. Thadiandamol Race – 10km
TOTAL ELEVATION GAIN: 800m
HIGHEST ALTITUDE: 1,720m
The views are breathtaking and the course difficulty ranges from comfortable to downright bad. The comfortable sections are stone or mud trails through the forest and the coffee plantations. The downright bad sections are the grassy areas on the hills which are similar to tussocks and clumps of heather on the English fells. Being in the monsoon, the trails are also bound to be a little slippery. It's a 31k loop with 1920m elevation gain.
For More details:
email – contact@grandindiantrails.com
Call/Whatsapp – +91-7503680807
Website- https://thecoffeetrails.com