Jet Airways partners with YouTooCanRun
---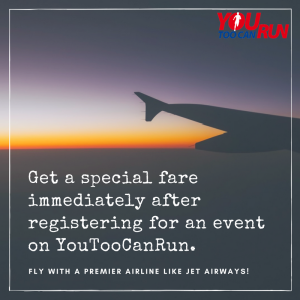 Arrive well rested to the race venue on a premium airline that understands the needs of runners.
Jet Airways has offered fabulous discounts to runners as you head to conquer new distances!
The drop-down list below contains the list of all runs for which a discounted fare is on offer.
Select the event that you have registered for and provide the registration ID which was emailed to you after you completed your registration.
Your registration ID can also be obtained from the "Payment Overview" option on;
http://youtoocanrun.com/check-application-status/