India's only fully featured and completely serviced running event technology platform".
Events Managed – 1065   
Registrations Handled – 9,10,000   
Registration Amount Collected – 46,95,18,458/-
We are a mass participation endurance events-specific technology platform. We back this with a best-in-class support service team. We are not a generic event ticket-selling payment gateway.
Founded by an ardent endurance athlete and backed by a dedicated team of running enthusiasts, our niche focus ensures that the end client, viz the event participants, gets the best experience possible.
Our more than a decade of in-depth involvement with the sport of running ensures that we have deep domain expertise that gives your event the edge. Our network in the sport involves the who's who of running in the country.
We are fully featured and keep on adding to the list. Our more than thirty features ensure that no generic event registration offering can match our specialization.
Our suite of innovative tools will help you through the entire lifecycle of your event.
We command the largest market share in sporting events and over the years have supported 1054 events with over 9,10,000 participants.
Event Design

– Help you design the event features based on current market conditions. Our finger on the pulse of the market cannot be matched by others.
– Establish a marketing plan to make your event grow and support it fully.
– Custom design the form to meet your event-specific features. Can give you an unparalleled edge.
Registrations
– Sending marketing mailers and WhatsApp messages without any limits.
– Our largest backend database of past participants ensures the filling of data with minimum hassles by pulling previous data. A participant delight.
– Recognise and offer a 'Loyalty Privilege' discount to repeat participants. They will love you.
– Prepaid cards with your branding for direct sales to bulk organisations.
– Promo codes for customised discounts ensure tracking of marketing channels.
– Customised workflow solutions for corporate enrollees.
– Bulk registrations through customised excel spreadsheets
– Participants can check their application status and resend the registration email feature.
– Participants can check their application status and resend the registration email feature.
– 'Reserve my bib' feature for event notifications services. Help build the pre-event lead pipeline.
Raising Charity
– Running helps raise the largest amount of charity worldwide. Our alliance with Ketto.org is aimed to help your sporting event work towards social good. The seamless integration ensures that participants who are inclined to use your event for raising charity can do so with minimal effort in creating their customised pledge pages.
— Donation drop-down in the registration form providing the participant a feature to add a 'TOP UP DONATION' contributing to the cause of the event.
Every Day
– We recognize your needs may be unique.– We send you a daily MIS Report by email with your desired customised format. We recognize your needs may be unique.
– All email queries are answered on a 'same-day' basis. A second round is escalated with a phone call to the participant, eliminating email ping pong.
– Answering routine posts on the Facebook event page.
– Back-end monitoring of all registrations on a daily basis. Eliminate duplicates and junk entries
– Chase abandoned registrations and ensure conversion. Approximately 10% enhanced revenue realisation.
– Capitalise "ravi kumar" to "Ravi Kumar". Ensures neat communications in the future. We care for your image.
As And When Needed
– Customised MIS reports for specific purposes. For eg, you want to place a t-shirt order.  A customized report would specify "size" & "gender" details.
– Monitor marketing efforts and track responses. Send marketing emails and WhatsApp as per requirement.
– Complete Social media marketing service.
– Social media posts.
– Customised event promotion activations.
Bib Allocation
– Automated Bib allocation at the time of registration as per a predefined bank of numbers
– Bib number allocation at the close of the event based on different categories.
Event Metrics Reports
– Post Race Data mining of registrations to test the efficacy of marketing plans. Take the learnings to the next edition.
Sample Report:



Post Event Satisfaction Survey
– Post the event we send out a satisfaction survey to ascertain the feedback. Learnings are summarized and presented to management. Conducted in 16 events and filled by 2,983 runners. See sample report:



WORK FLOW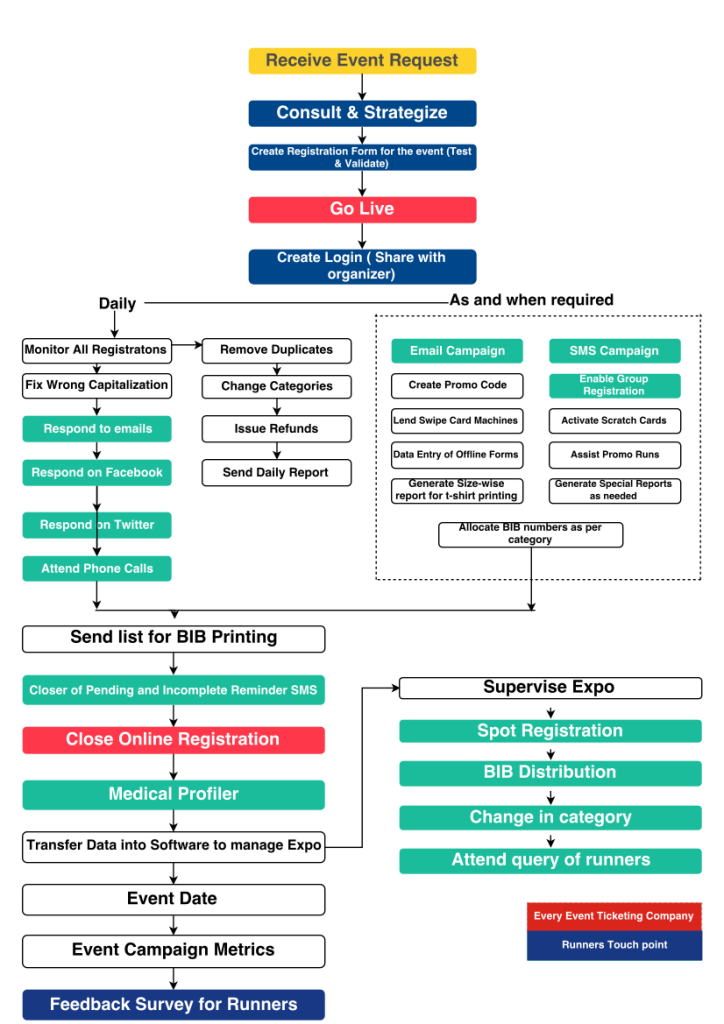 Partner with us for your success.
Get In Touch: support@youtoocanrun.com OR +91 9920142195