Let your next event reward deserving runners


Stop participants from cheating


Cheating offends against the ideals of sport and failing to act against it will bring running into disrepute – IAAF
How it works: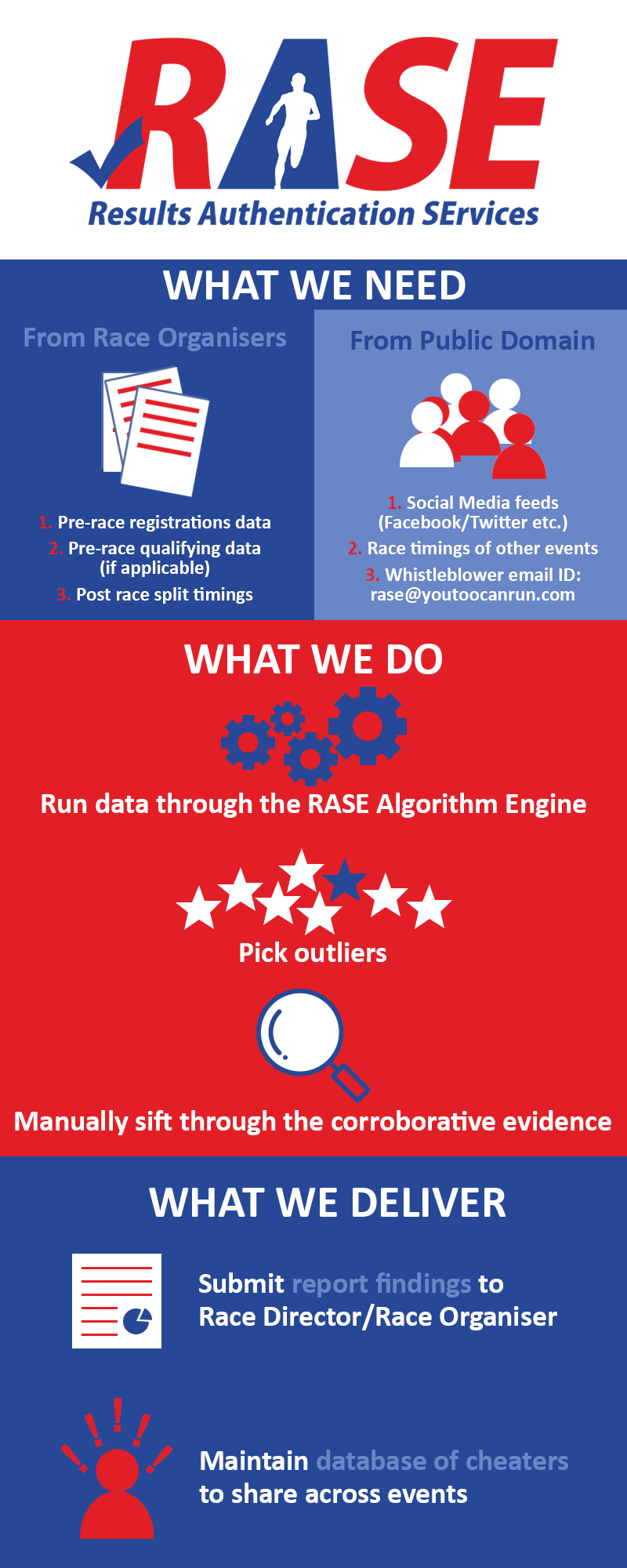 Results Authentication Services for Events (RASE ) is a feature in its registration platform so that disqualified runners are barred from participation in other events.
Too often runners adopt practices that are not ethical to the sport of running which otherwise seeks to reward the honest efforts of the participants. Such instances result in a bad taste in the event since a genuine runner is denied the privilege that is rightfully his
In the current situation, there is no deterrent to the runner to stop adopting unethical practices. If such a situation continues, it will only encourage many more runners to take the wrong path.
Unique RASE Statistics & A Few Case Studies
Case Study 1:
Issue: One of the events YouTooCanRun managed was the last qualifier run for an event in Mumbai. To qualify for this event in India, a few runners had given their bibs to other runners who were faster and who could finish in under the qualifying time.
How We Detected the Cheaters & Solved the Issue: On running the data through the algorithm engine and checking the corroborative event photos we found out that a few runners who ran were not the runners who had registered for the event. The registered participants were informed about this and were denied the timing certificate and disqualified from the event.
Case Study 2:
Issue: There was a contest of the prize winners and the runner who was fourth contended that the third runner had not run the entire route.
How We Detected the Cheaters & Solved the Issue: The algorithm engine throws up runners who split paces and skewed and have abnormal variance. His pace from 5.5 KM to 11.7 km was 0:8:07 but his pace from 11.7 km to 17.9 km was 0:03:11. The event organiser was then informed about this issue. The Race Director was informed who then DSQed the runner.

Case Study 3:
Issue: In an event with a large prize money, In one such event, one of the runners decided to wear two bibs(his & his friend's) and run the event so that they could win the prize money for two age categories.
How We Detected the Cheaters & Solved the Issue: On running the timing data thru the algorithm engine, we found out that the KM splits of both the runners were exactly the same but on checking the event photos the 1st runner-up was nowhere to be seen around the winner. Both the runners were disqualified and have been banned from running the event for a period of 3 years. Their details have been shared with other organisers, ensuring that they are barred from participating in other events for a period of 3 years.
Unique RASE Statistics:
No. of events analyzed: 48
The average size of each event: 4,000
No. of cheating instances recorded: 51