Today is Puthandu, the Tamil New Year. Also every day the team at YouTooCanRun assembles to have tea together at 4pm.
In many Tamil households we have the practice of reading the Panchang on the Tamil New Year day. Today I used the tea time huddle opportunity to explain the different components of our Panchang.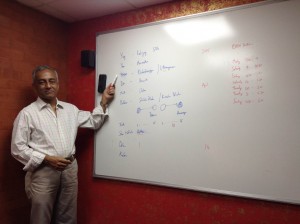 Many of our team members are young and do not know enough about the difference between a Thithi and a Nakshatram. Many questions were asked explanations offered. Of special interest was how to determine the RahuKal for each day of the week!
Here is wishing you a Puthandu, Vishu, Baisakhi, Rongali Bihu