Friends,
Some definitions first
august = inspiring reverence or admiration; venerable;
August = The month. Following July and preceding September
This month of August 2012 has been a landmark one for me…Never ever did I imagine or did I even plan that I would be running
THREE Half Marathon ( 21 kms ) distance in the same calender month.
Many who know me, know that I run a Half Marathon distance each month as part of my fitness regime. If there is an organised event then I run it. If there is no convenient event then I just run the distance on a Sunday that is suitable to me.
But in this month, as circumstances conspired, I ended up feasting on Half Marathons. And the best part is that I am hungry for more.
Let us start at the start.
Half Marathon – 1  ….. 5th August 2012
On the first Sunday of each month, the Bandra-NCPA group organises a run from Carter Road Bandra to Nariman Point in South Mumbai. If  you start with them it is about 19.5 kms. But if I start from my house then it comes to 21 kms, which is what I did.
I could also help the run by stationing my loyal driver Suresh at Mela corner with water and fruits etc for all the runners who took part in the run.
As runs go, I did not push too much. It was  a slow aerobic LSD for me. A fun training run as it should be. I ran with so many runners talking all along the way that the distance just melted away.
When I finished the run and looked at my Garmin results I noticed that while I had taken 3:08 to complete the distance, my moving time was just 2:48.
The Garmin link is here http://connect.garmin.com/activity/207306876
Half Marathon – 2 …… 15th August 2012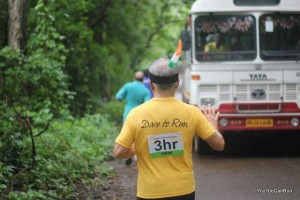 The running community of Mumbai and especially the runners of Borivili National Park have been organizing a Half Marathon inside Borivili National Park on Aug 15th, which is India's independence day. I was requested to be the 3 hour pacer and took charge of the pacing efforts.
As part of my duties, I held a briefing  meeting of the other pacers and appraised them of what is involved in the duty. It was quite an engaging debate and after we left I could draw up a pacing plan for them, based on the terrain and their own individual strategies.
Besides being the pacer, I also arranged for ice to relieve the limping finishers. My elder son Vivek came along and clicked photos which were  appreciated. The online album is here
https://plus.google.com/u/0/photos/111372758904458143042/albums/5776807336028457265
The leading runners of the city took up volunteering so that the new runners could enjoy a well run event. As for me, I stuck to the plan that I had drawn up km by km. At km 18 I knew I was running a minute or so late and speeded up. I crossed the finish line in 2:59:48 thus maintaining a pacers credo of 'Not a minute early, not a second late'
My Garmin link is here http://connect.garmin.com/activity/210770077
Half Marathon – 3 ….. 26th August, 2012
The last and the final Half Marathon was run by me at Hyderabad. It was a well organized event which was managed by the running community of that city. Hats off to them. All the lead runners of that city took up volunteering so that others could run in their city. I was to be the 3 hour pacer here too, but when plans changed, I realised that I was free to race. But with very little technical training in the last few weeks, I was not peak form and thus designed a conservative pacing plan of 2:41, keeping in mind the elevation profile of the course.
I could also stress the importance of pacing with the team from my running group TopGearMIG and draw up pacing charts for them. On the night before I sat down and planned the Full Marathon for Venkat Krishnan and we agreed that a 6:14 was the best possible finish for him.
As decided I ran aerobic for the first 12-14 kms. Then I picked up pace. In the last 2 kms I sprinted ( or rather what goes for a sprint in my case

) and clocked a 2:38 finish. Very comfortably.
The Garmin link is here http://connect.garmin.com/activity/215599139
I provided for adequate rest after each run. But I did have some 10-12 k runs in the interim. My total mileage for August is
I did not have any pains / niggles at all
My diet was Vegan. No animal products such as eggs, dairy ( milk, yogurt, paneer, cheese, butter etc ) or honey. Going Vegan was the best change that I made from a nutritional standpoint.
Thanks for the patient hearing 

Venkat