A very Happy Dassera to all of you.
All of us know that there is a lot of mythological significance behind the festival and most of it revolves around the triumph of good over evil.
Thus it is also called Vijaya Dashami…the Victorious Tenth day.
Most of the stories are lost in significance when juxtaposed with contemporary mores. But the underlying lessons, which the allegories seek to illustrate remain timeless nevertheless.
For me, as a runner, doing the Kalina Loop distance of 9 kms in under an hour,  has been always a physical and mental challenge that I have not been able to conquer. My Previous best for this distance has been 1:02:18 which was run on on a cooler, 30th Jan, 2011.
I thus decided to mount another assault today. My confidence stemmed due to the following reasons.
1. As the whole world ( and its uncle

) knows, I ran the Baltimore HM two weeks back. I finished the run comfortably and had felt that I had underestimated my own capacity and thus paced conservatively. Today, I decided to put my untapped potential to the test.
2. I have been able to give up the hydration bugbear. Especially after Prof Tim Noakes has bought out in his book 'Waterlogged', about why most of us runners are drinking too much water. My own Sweat Rate study protocol requires that a runner run for an hour without water. My experiments showed that it was quite easy to do this.
So the run of today was going to be sans a litre of water on myself.
3. Being Dassera, I decided to invoke the spiritual powers and motivated myself to conquer the evils viz over pacing and then taking walk breaks.
My armoury consisted of
1. Sitting down the previous night and drawing up a proper pacing plan..km by km. I calculated my aerobic threshold and looked at my different paces at different Heart Rate levels. I set my Garmin for a 6:40 mins per km pace.  And
2. Mentally training myself not to succumb to walk breaks or to stop for flimsy reasons.
I executed to the plan. I stuck to my pace..more or less. I kept a sharp eye on my HR and Pace on the Garmin. And did not take any walk breaks. When I finished I was still aerobic and at an RPE of 5 ( moderately hard )
My timing 58:40. Shaving off a clear minute and some more. Victory.
http://connect.garmin.com/activity/236610392
Besides the better timing it is also significant to note that today was warmer and also my average HR earlier was 165 whereas today it was lower at 162.
I came back after the run and reverentially placed the working tools of a runner ( Garmin and Heartstrap ) along with the books and the Veena in front of the Kolu.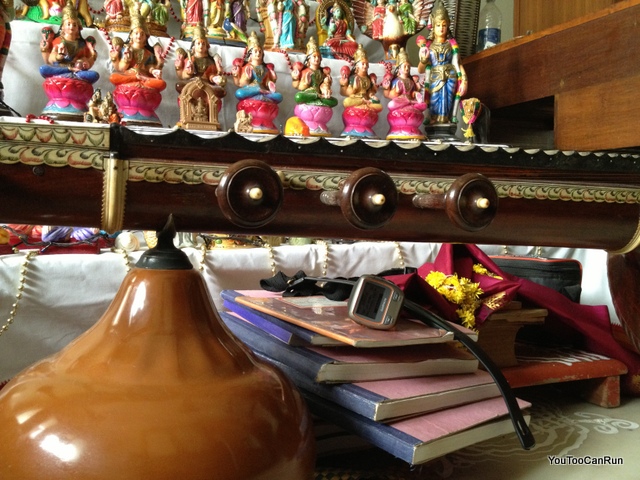 Thus today on Dassera day, the Good ( Knowledge , Planning ) triumphed over the Evil ( Physical and  Mental barriers ).
Who says our festivals are not relevant? What is probably not relevant is the manner of its observance.
A very happy and victorious Dassera to you too